American Psycho Morning Routine Monologue is a script that describes the meticulous and obsessive morning routine of the main character, Patrick Bateman, from the film "American Psycho". This script captures the fastidious attention to detail and ritualistic behavior that is a hallmark of the character. The American Psycho Morning Routine Script is a perfect representation of the character's disturbing yet intriguing personality, making it a must-read for fans of the film and those interested in exploring the depths of a disturbed mind. Here it goes,
"I live in the American Gardens Buildingon W. 81st Streetb on the 11th floor.
My name is Patrick Bateman. I'm 27 years old. I believe in taking care of myself and a balanced diet and a rigorous exercise routine.
In the morning if my face is a little puffy… I'll put on an ice pack while doing my stomach crunches. I can do 1000 now. After I remove the ice pack. I use a deep pore cleanser lotion.
Sheer songwriting this album hits a new peak of professionalism
In the shower I use a water activated gel cleanser, then a honey almond body scrub, and on the face, an exfoliating gel scrub. Then I apply an herb-mint facial mask which I leave on for 10 minutes while I prepare the rest of my routine. I always use an after shave lotion with little or no alcohol, because alcohol dries your face out and makes you look older. Then moisturizer, then an anti-aging eye balm followed by a final moisturizing protective lotion.
There is an idea of a Patrick Bateman, some kind of abstraction. But there is no real me. Only an entity, something illusory. And though I can hide my cold gaze, and you can shake my hand and feel flesh gripping yours and maybe you can even sense our lifestyles are probably comparable…
I simply am not there."
For Full Brief Article You Can Read Our Article:
What is Patrick Bateman Diet Plan?
Patrick Bateman, the protagonist in Bret Easton Ellis' novel "American Psycho," is infamous for his strict and obsessive diet plan. However, it's important to note that his diet is fictional and highly unhealthy. I do not recommend following his diet plan as it is not a safe or sustainable way to maintain a healthy lifestyle.
In the novel, Patrick Bateman's diet consists mainly of the following:
Evian water

Mixed green salads with balsamic vinaigrette dressing

Grilled chicken breast

Steamed vegetables

He also occasionally indulges in expensive wines, spirits, and drugs.
Again, this is not a healthy or balanced diet, and it's essential to prioritize nourishing your body with various nutrient-rich foods. If you have concerns about your diet or want to make changes, it's always best to consult a qualified healthcare professional.
Was Patrick Bateman Dreaming?
The 2000 film adaptation of "American Psycho," directed by Mary Harron, leaves the interpretation of whether Patrick Bateman was dreaming open to the audience's understanding. The film includes surreal and absurd scenes that suggest that some of the events in the movie may not have happened, but it is not explicitly stated that Bateman is dreaming.
In the movie's final scene, it is implied that the murders that Bateman had committed were not taken seriously by the authorities, and it's suggested that he may have gotten away with his crimes. This ambiguous ending leaves the audience to wonder whether the entire film was just a manifestation of Bateman's psychotic fantasies or if the events in the movie did occur.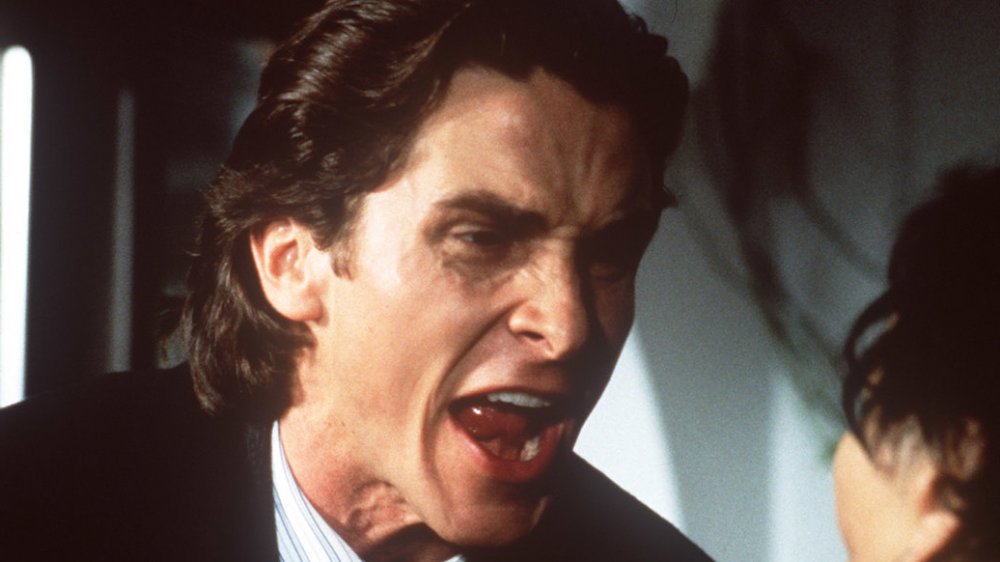 Is Patrick Bateman's Morning Routine Good?
Patrick Bateman's morning routine, as depicted in the book "American Psycho," is highly detailed and includes multiple steps. However, it's important to note that his routine could be better or healthier.
In the book, Bateman's morning routine includes the following:
Doing sit-ups and push-ups until he feels "the burn."

Using an exfoliating scrub on his face

Applying a moisturizing face mask

Brushing his teeth with a whitening toothpaste

Applying an aftershave lotion with little or no alcohol

Using a toner to minimize the appearance of pores

Applying a facial cream with retinol

Styling his hair

Choosing an outfit that matches the color scheme of his apartment
While some steps, such as brushing teeth and styling hair, are typical parts of a morning routine, other measures like excessive exercise, overuse of skin care products, and obsession with appearance may indicate obsessive-compulsive behavior. They may not be healthy for mental and emotional well-being.
Overall, it's essential to tailor a morning routine that works for your individual needs and goals and promotes overall well-being.
Is Patrick Bateman's Skincare Routine good?
Patrick Bateman's skincare routine, as depicted in the book "American Psycho," is extraordinarily elaborate and includes various products and steps. However, it's important to note that his routine may only sometimes be good or healthy for some.
While some of the steps in Bateman's skincare routine, such as using a facial cleanser and moisturizer, can be beneficial for maintaining healthy skin, his routine also includes using abrasive scrubs, astringent toners, and other harsh products that can be damaging to the skin.
Additionally, Bateman's obsession with appearance and perfection can be indicative of obsessive-compulsive behavior, which can have adverse effects on mental health.
Overall, it's essential to tailor a skincare routine that works for your skin type and concerns and to use gentle and effective products for your skin. It's also necessary to prioritize overall well-being and avoid behaviors that can harm mental and emotional health.
Patrick Bateman Routine Quote
One famous quote from the book "American Psycho" that illustrates Patrick Bateman's routine is:
"I like to dissect girls. Did you know I'm utterly insane?"
This quote highlights Bateman's obsession with control and perfection and his disturbing behavior of objectifying and harming women. However, it's important to note that this quote does not reflect a healthy or regular routine and should not be emulated or glorified in any way.
Does Patrick Bateman's Morning Routine Really Work?
Patrick Bateman, the infamous character from Bret Easton Ellis' novel "American Psycho," is known for his extreme attention to detail regarding his morning routine. The book was later adapted into a movie, further popularizing Bateman's routine. People often wonder whether the routine is worth following and whether it works. In this article, we have taken a closer look at Patrick Bateman's morning routine, including the products he uses, the book he references, and the transcript of the routine.
Patrick Bateman's Morning Routine
Bateman's morning routine is notorious for its extreme detail. The routine starts at 6:30 am sharp, with Bateman waking up to the sound of his alarm clock. He then performs a series of exercises, including sit-ups and push-ups, before moving on to his skincare routine. Bateman is known for using various high-end skincare products, including a facial scrub, a glycolic acid toner, and a moisturizer with sunscreen.
After his skincare routine, Bateman moves on to his hair care routine, which involves using a volumizing shampoo, conditioner, and hair gel. He then brushes his teeth with whitening toothpaste and flosses before finally getting dressed for the day. Bateman's wardrobe is also carefully selected, with every detail meticulously planned out.
Patrick Bateman's products in his morning routine have become almost as famous as the routine itself. Fans of the book and movie have often sought out the same products that Bateman uses, hoping to achieve the same level of perfection as the character. Some of the products that Bateman uses in his routine include Kiehl's Facial Fuel Energizing Scrub, Dermalogica Multi-Active Toner, and La Mer Moisturizing Cream.
The Book That Inspired Bateman's Routine
In the book "American Psycho," Bateman is portrayed as a character who is obsessed with perfection, both in his appearance and his daily routine. One of the books Bateman references in the novel is "Confessions of a Shopaholic" by Sophie Kinsella. Bateman mentions the book several times throughout the story and even goes so far as to quote it during his morning routine.
The book, a lighthearted comedy about a young woman addicted to shopping, may seem like an odd choice for someone like Bateman. However, Bateman seems drawn to the book's message of perfectionism and the idea that anything can be achieved with enough dedication and hard work. Bateman often refers to the book when talking about his morning routine, suggesting that he sees it as a source of inspiration for his pursuit of perfection.
The Transcript of Bateman's Morning Routine
For those curious about how to do Bateman's morning routine, the transcript of the way is readily available online. The transcript outlines every step of the routine, including the products that Bateman uses and the exercises he does. While some people might find the routine overwhelming, others may be inspired by Bateman's dedication.
Here is a transcript of Bateman's morning routine:
"I wake up at 6:30 am sharp. I do 1000 sit-ups and 1000 push-ups. After my exercises, I shower and wash my face with a facial scrub. Then I apply a glycolic acid toner and a moisturizer with sunscreen. I then move on to my hair, using a volumizing shampoo and conditioner. I apply hair gel and then brush my teeth with whitening toothpaste and floss. Finally, I get dressed for the day."
Recommended Video